I bought the Cricket 2005 game for the PS2 and here is my review:

Let us start from the menus. It definitely looks better than C2004 and the addition of EA Trax is much appreciated. The whole look resembles that of FIFA 2005. You have options like friendly, tournaments, My Cricket 2005 and team management. Tournaments is dived into International and Domestic. The create player option is very similar to the one used in FIFA 2005 but a big downer is that you cannot modify the faces of existing players (Players like Sachin Tendulkar look nothing like themselves. Sachin has moustache which makes him look like a Rajput warrior).


You have a lot of teams from which you can select two when you enter the Friendly menu. A huge disappointment is the fact that India has only one stadium, Eden Gardens and most other countries have only one stadium too. Every other feature here is the same with the pitch conditions, number of overs and so on. EA Sports does not give us the luxury of selecting the squad of our opponents. This really infuriates me since many teams do not have the proper starting eleven. For India, Gambhir opens the batting in ODIs and Kaif is omitted.



Graphics:


The graphics are amazing. The players, their movements and reactions are very realistic. We have different umpires for different ends which was not seen in C2004. EA has definitely done its homework as far as graphics go.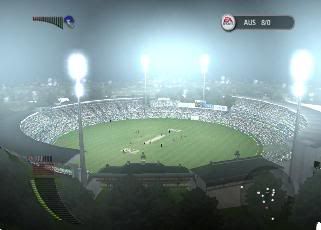 Batting:


The batting controls are the same as the ones used in C2004. We have a confidence meter(which I have really not tested due to my horrible batting) as before. The ball mark is shown just before the bowler delivers and this means that you cannot move the batsman as you wish and strike the ball. This is definitely an improvement as it makes batting difficult. The fielders are incredibly fast. You cannot pinch easy singles any more. It is also very difficult to hit a boundary without using the power button. The outfield is very, very fast and the ground seems to be too small. I have so far found it incredibly tough to score runs. I play only in the legside cos I always scoop up a catch when I play in the covers. I have not scored a single run in the V. All this makes batting a nightmare. It makes for better gameplay, you may say, but it's horribly difficult and I am playing with medium difficulty. The lineup bug is thankfully removed and so is the run out bug.

Bowling:
Bowling is awesome. They have made it much more difficult to position the ball (though with some practice, positioning can be perfected). There is no exaggerated swing movement but spin bowling is very good, especially if you are bowling with a leg spinner. If you bowl well for an over or so, you get to bowl special balls like googlies, flippers, doosras and slower balls and yorkers if you are a fast bowler. There is no manual appealing as EA had promised. Bowling is difficult too as you get clobbered to all parts of the ground but if you bowl cleverly you can pick up wickets. Run outs are rarer this time around. Overall the bowling aspect of the game is satisfactory.



Fielding:


Catches are much more realistic and so is the ground fielding but the fielders are too damn fast. Fielding could definitely have been made better but still its an improvement over its predecessor as the keeper finally has been given the power to move his legs.

In a nut-shell:
Graphics: 9/10
Gameplay: 7/10
Sound: 8/10
Commentary: 3/10
Lifespan: 6/10
Overall: 6.6/10



Verdict:

Buy Cricket 2005 if you are a cricket fan and if you hated Cricket 2004 or wait for BLIC to hit the stores.