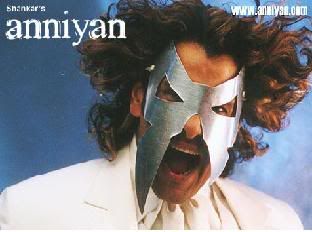 I saw Anniyan a couple of days back and I felt that it was pretty pathetic. A loose storyline along with some shoddy screenplay makes it a complete mess. It is basically about a guy who has a multiple personality disorder. Ramanujam AKA Ambi (Vikram) is a lawyer who is a stickler for rules. He confronts the wrongdoers on the streets and is a very admirable character. He has a thing for Nandhini (Sada) who lives in his neighbourhood but she hates him because of his tendency to live only by the rules. This really distresses him and he becomes Remo, a ramp walk model (that's how he introduces himself). Nandhini falls for Remo even though he is this humongous git who talks with an annoying accent. It's quite baffling that Nandhini cannot distinguish between Ambi and Remo as after all the only physical difference between the two characters is their hair. Ambi becomes Anniyan when he sees people not acting in a humane manner and starts killing them. He opens a website Anniyan.com where people can register their complaints and he goes and kills the wrongdoers. It is such an incredibly stupid plot. He kills people for giving substandard food in trains. How ridiculous is that. It is really irritating writing about this movie, so in a nutshell, Nandhini does something corrupt and Anniyan goes after her which leads him to a psychiatrist(Nasser) who figures out his problem, gives a dumb solution, the police keep chasing him, Ambi gets a positive verdict in a court scene after which he still continues to kill people. There is also a scene in Nehru stadium but that is not worth commenting on.
Shankar seems to have an obsession with violence. He always gives out the message that death is the punishment for people's misdeeds. I cannot understand how he can justify Anniyan killing a guy just because he is lazy. Even if people are bad, no one has the right to take their lives.
Vikram is amazing as Ambi and Anniyan but sucked as Remo. His acting was top notch in the climax. Sada comes and goes. Vivek's comedy is hilarious and is the only saving grace for this film. Prakash Raj is really good with the idiotic role he has been given. Sujatha's dialogues are a class apart. The songs and BGMs were good. The picturisation of the Kumari song was disappointing considering the locales they had. It was a very mediocre film but the very sad thing is that some people actually liked it. I am still wondering how Oscar Ravichandran spent 26 crores to make this stupid movie. Anniyan is a technically brilliant film but is left wanting in its storyline.
My rating: 3/10 (Watch it only for Vivek's comedy and Vikram's acting).